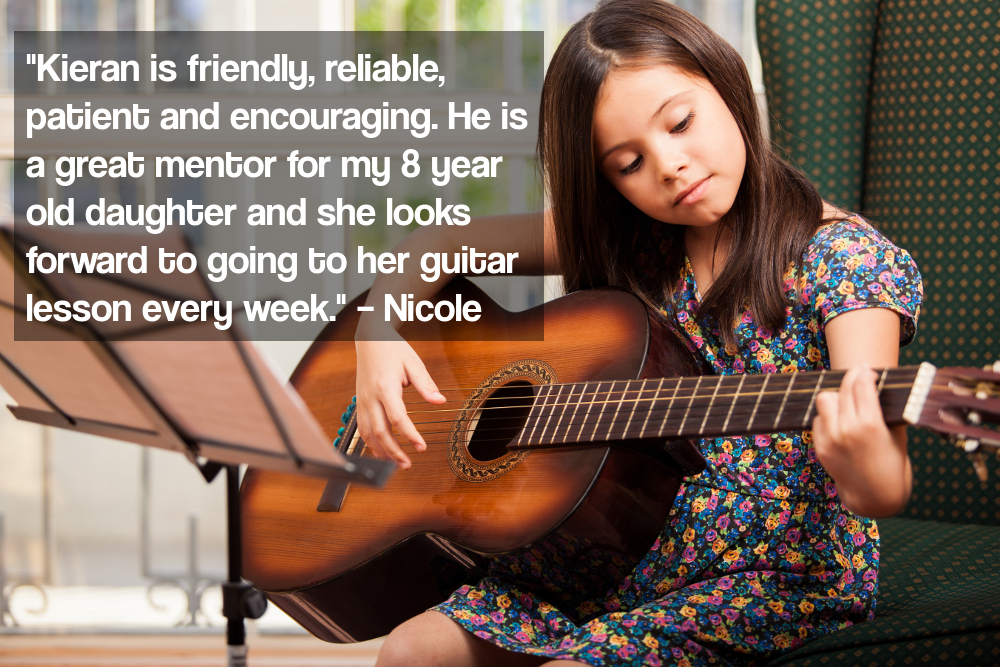 Learning Guitar is a fantastic way for kids to get involved with music, and is the perfect balance of education and fun.
My structured step-by-step method is ideal for kids to learn the fundamental skills of guitar and music at their own pace, while applying those skills to popular songs for them to enjoy.
My approach is to blend exercises, games and music theory basics in with songs to create a fun way of learning that is engaging for kids. After a private introduction for several weeks, the goal is for each student to be paired with another of the same age and standard to create a group lesson. This creates a great social and team-building environment while encouraging practice. Learning in a group also helps with timing skills while learning essential rhythm and lead guitar techniques.
Another great way to help motivation and enjoyment is to learn with a friend. I highly encourage you to seek a friend of your child that may be interested in learning as well to create the group lesson.
I have a half size guitar and a full size guitar to use for a free trial lesson, so you don't have to buy a brand new guitar until they have had a go and want to continue.
I am also involved in the teaching for the Melbourne Inner North Performing Arts Academy (Multi-Instrument Classes), more details about enrolling your child here, or call 0422 350 290 or email melbourneinnernorthpaa@gmail.com
"The group sessions, where Kieran instructs two or more students simultaneously, have been especially valuable. Our daughter has found this style of teaching to be both fun and engaging and it has encouraged her enthusiasm to practice." - David